Chicago,  IL,  21  de  julio,  2016  –
Los  Chicago  White  Sox  y  el  Concejal  Roberto  Maldonado  junto  a  Cónsules  Latinoamericanos anunciaron el comienzo del 4o año en el que el festival Taste of Latin America se llevará a cabo con la participación de restaurantes latinos como: Las Tablas, Venezuelan Bowl y La Havana Café. Las raíces latinas de jugadores como Melky Cabrera, Jose Quintana y Jose Abreu serán honradas durante el evento al ofrecer a todos los  asistentes  tres  platillos  creados  en  su  nombre;  Jose  Quintana's  Colombian  Style  Hot  Dog,  Jose  Abreu's  Brochettes and Melky Cabrera's Arroz con Pollo.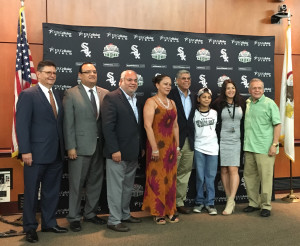 De  izquierda  a  derecha:  Paulo  Cesar  de  Camargo,  Cónsul  General  de  Brasil;  Hugo  Hun,  Cónsul  General  de  Guatemala;  Carlos  Martín  Jiménez  Macías,  Cónsul  General  de  México;  Sandra  Liliana  Sanchez  Ku,  Dignataria  del Consulado  de  Colombia;  Roberto  Maldonado,  Concejal  del  distrito  26th;  Roberto  Maldonado  Jr.;  Sheena  Quinn,  Directora  de  Relaciones  Publicas  para  los  Chicago  White  Sox;  José  Lopez,  Director  Ejecutivo  del  Centro  Cultural Puertorriqueño.